As parents and caretakers of children, one of the difficult lessons to teach our kids is the concept of sharing. On the flip side, it is important to also teach children to return things they have borrowed from others.
Children's books are a great way to teach both lessons. We can be sure to add a few storybooks that are fun reading while also on the topic of sharing. With each new addition to a child's home library we can add a bookplate to the inside cover that declares, "
It's Mine!
"
Books teach children to share and the bookplates teach kids that when a book does not belong to them it needs to be returned to its rightful owner.
Of course, another way to teach children about the sharing and borrowing of books is by taking them to the local library. Libraries share their books with us but also insist they must be returned in a timely manner.
For me, it has been far too long since I took a child to a library. It would have been with my son when he was young.
When was the last time you visited a library with a child?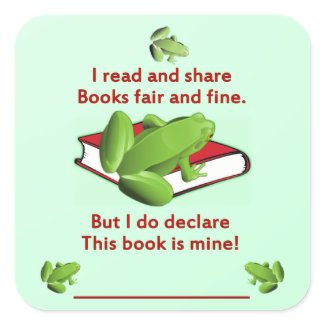 As an Amazon Associate and Zazzle affiliate, I may earn income via links in this article.